Seowon of Korea: UNESCO World Heritage Site
The UNESCO World Heritage Center recognized the "outstanding universal value" of Korea's seowon as evidence of a cultural traditional related to Korean Neo-Confucianism and a faithful representation of the historical process by which Confucianism was adapted to Korea's circumstances.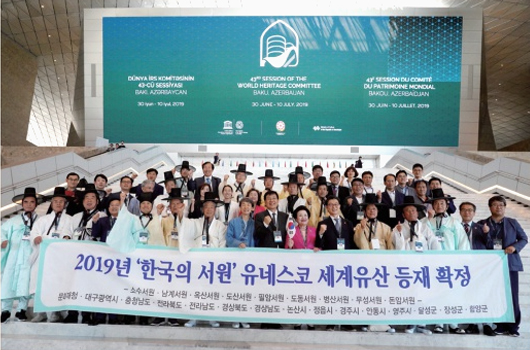 On July 6, 2019, Korea's nine seowon were registered as a UNESCO World Heritage at the 43rd session of the World Heritage Committee, which was held in Baku, Azerbaijan, in recognition of their importance and collectively as a heritage that must be valued and protected by all people. The nine seowon are: Sosuseowon (Yeongju), Namgyeseowon (Hamyang), Oksanseowon (Gyeongju), Dosanseowon (Andong), Piramseowon (Jangseong), Dodongseowon (Dalseong), Byeongsanseowon (Andong), Museongseowon (Jeongeup), and Donamseowon (Nonsan).
Each of these nine seowon, which are regarded as one serial property by UNESCO, is a reflection of the Joseon dynasty's strict adherence to Confucian values, and they remain in excellent physical condition, centuries after their establishment.
Korea's seowon was at first modeled on the Chinese seowon. Its content, however, was very different from that of its Chinese predecessor. Unlike the Chinese seowon, which started as a private academy and later became state-operated, the Korean seowon was always privately operated. The objective of Chinese seowon was to cultivate bureaucrats, while the goal of the Korean seowon was to gain academic knowledge and develop one's character by commemorating the philosophies and psyche of great scholars.
Another unique aspect of the Korean seowon that is not found anywhere else in the world is the preservation of a tradition of "veneration." A seowon veneration is a ritual performed to commemorate a deceased teacher or revered individual through which the living, who are usually the deceased's disciples, pledge to continue the individual's academic work and spirit.
The seowon's surviving books, documents, and woodblocks give us a glimpse of their intellectual activities, while objects and documents related to veneration-related rituals provide valuable information on what it was like to study and live at a seowon. During a time when it was very difficult to manufacture or obtain books, the seowon carried out the functions of today's libraries or culture centers.
The Korean seowon were based on a moral culture that emphasized well-honed intellectual ability and maturity of discipline. The literati strived to broaden the scope of their understanding of Confucianism through nature. Students debated with one another, engaged in the arts by composing poetry, published joint statements with the uibyeong (righteous soldiers) during times of national crisis, and even wrote scathing, jointly signed petitions to the king (called yeonmyeong sangso) if they felt that the government was not following the Neo-Confucian rules of statecraft.
As such, Korea's seowon are themselves a collection of diverse cultural heritages of history, education, veneration, rituals, architecture, records, natural landscapes, and people. All of these are based on the seowon's spirit of communication, harmony, sharing, compassion, love of nature, and respect for all life.
Background and process
2011.12.
Included in the Tentative List
* Seowon, Confucian Academies of Korea
2015.01.
Submission of the nomination
2016.04.
Withdrawal of the nomination
2016.10.~2017.03.
ICOMOS Advisory process
2018.01.
Submission of the revised nomination
* Seowon, Korean Neo-Confucian Academies
2019.07.
Inscription on the World Heritage List